The current economic crisis has left many people without financial resources to pay all of their bills and financial obligations contacting a Massachusetts Bankruptcy Lawyer may be the answer. Often times the pressure of debt can be unmanageable when debtors also face unexpected unemployment or illness. Fortunately there are a myriad of options open to debtors, including debt consolidation, refinancing and bankruptcy. When there are limited assets and no way to stay current on financial obligations bankruptcy may be the best answer.
The most common choices for Massachusetts Debtors is to choose either a Chapter 13 or Chapter 7 bankruptcy. In the Chapter 13 plan the debtor pays back a portion of the debt over periods ranging from three to five years. The Chapter 13 process his highly monitored by trustees who work on commission as to the amount of they can recover for the bankruptcy estate.
[youtube:http://www.youtube.com/watch?v=Eh33guSwKOY?modestbranding=1 550]
Premier Massachusetts Bankruptcy Lawyer
A Chapter 7 bankruptcy give debtors a fresh start because it wipes out the most if not all of the unsecured debt (like credit cards).  The reason a Chapter 7 bankruptcy is so useful for Massachusetts residents is because many would never have the financial resources to ever pay back their debt and still make ends meat.
One of the main advantages to filing a Massachusetts Chapter 7 bankruptcy is that the process only takes three to six months from the date of the filing. And once completed the debt is completely eliminated and the debtor can begin a new financial start.
Another advantage for Massachusetts debtors is that Creditors must cease collection activities and harassing phone calls must immediately cease. Further it will end wage garnishments and collections lawsuits.
It should be noted that certain debts cannot be discharged in a Chapter 7 case. Things like student loans, child support and taxes cannot be discharged absent rare circumstances.
The process for filing a Chapter 7 case is quite straight forward. A debtor meets a Massachusetts Bankruptcy Lawyer and various financial information is comp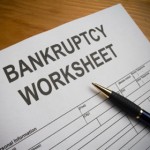 iled. Then the petition is drafted by your Massachusetts Bankruptcy Lawyer who files it on your behalf. There after a meeting of the creditors is scheduled. At this meeting you will meet the trustee who will go over the petition with you. Rarely do any creditors ever appear. If there are no other issues the debt is then discharged within the next several months and the unsecured debt is then eliminated.
Filing a Chapter 7 bankruptcy with a qualified Massachusetts Bankruptcy Lawyer can help those who are in financial difficulty get a fresh start and work to repair their credit. The process is streamlined and it may be the only way to get a debtor back on their financial feet. If your are interested or have any questions about filing Chapter 7 bankruptcy please feel free to contact Massachusetts Bankruptcy Lawyer J. Morgan Hargrove. Consultations are always free and he is very easy to talk with. The important thing is you should not feel embarrassed about your situation you did not ask for this to happen. For whatever reasons beyond your control you are faced with difficult financial situation that is beyond your control. It is ok to ask for help.
[youtube:http://www.youtube.com/watch?v=n1vCgMsLNPA?modestbranding=1 550]